Redactor: Dr Sreeraj Gopi, PhD, FRSC, FRSA, CChem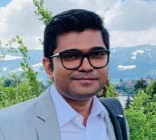 Având un doctorat în bio nano-materiale și sisteme de livrare a nanomedicamentelor, un FRSC și CCHem de la Royal Society of Chemistry și fiind membru consacrat al Royal Australian Chemical Institute, dr. Sreeraj Gopi nu numai că aduce perfecțiunea în domeniul său, dar promovează și inovația.
Cercetările sale aprofundate asupra plantelor, inclusiv lucrările publicate despre activitățile biologice ale curcuminoidelor, un studiu despre proprietățile anticancer ale polifenolilor naturali și un studiu privind formularea suplimentelor naturale sportive pentru rezistența fizică, l-au așezat pe Dr. Gopi în fruntea produselor și tehnologiilor inovatoare pe bază de plante.
Aceste recunoașteri remarcabile, combinate cu o pasiune înnăscută pentru discuții și prezentarea de informații în fața publicului, garantează că aceste cunoștințe de specialitate ale sale pot continua să influențeze dezvoltarea oamenilor de știință și cercetătorilor în curs de dezvoltare și afirmare. Fără îndoială, competența sa în privința brevetelor și formulelor cele mai avansate va ajuta Cibdol să ofere o experiență premium în ce privește starea de bine.
A publicat peste 100 de articole internaționale, și a înregistrat peste 75 de brevete internaționale inclusiv în SUA și Europa.
Lucrează ca profesor adjunct la multe universități precum Universitatea din Stockholm, Suedia, Siberian Federal University, Rusia, Mahatma Gandhi University, India, și Gdansk University of Technology, Polonia.
Premii și recunoașteri
• A absolvit un doctorat la University of Technology din Gdańsk cu tema "Bio nano-materiale".
• A absolvit un doctorat la Deakin University, Australia, cu tema "Livrarea de nanomedicamente".
• Premiat FRSC (Fellow of Royal Society of Chemistry) de către Societatea regală de chimie, Londra
• Nominalizat la Prestigious Alfred Deakin Doctoral Thesis Medal, de către Deakin University, Australia
• Membru de onoare al American College of Nutrition, SUA
• Premiat CChem (Chartered Chemist) și CSci (Chartered Scientist) de către Societatea regală de chimie, Londra
• A primit premiul "Outstanding Industrial Scientist" de la MG University, India
• Membru consacrat al Royal Australian Chemical Institute (MRACI CChem)
• Membru al Institutului de Chimie din Canada (MCIC)
• Membru al Societății Americane de Chimie (ACS)
• Membru al IUPAC